Great prices for insuring your Dive Gear and Underwater Cameras
Dive Master were established in 1987 and are now one of the largest independent providers of recreational dive related insurance in the world. They offer a vast variety of insurance products including IDEC diving accident cover, Trip travel and IDEC insurance, Annual multi trip cover, Worldwide diver cover, Diving equipment cover, Sport diver liability, Pro diver liability, Diving trade liability and Diving trade property insurance.
For a great price on insuring your underwater camera and video equipment, please click on the image below
.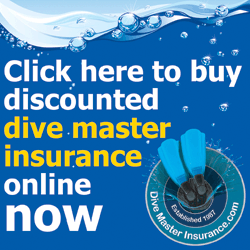 Product Reviews
Olympus 9-18mm f4-5.6 M Zuiko Digital ED Micro Four Thirds Lens
Very nice lens - compact, lightweight, crisp and an ideal wide angle r...
Olympus 40-150mm F4-5.6 R M Zuiko ED Micro Four Thirds Black
I do mainly landscape work so I only use longer lenses infrequently. T...
Olympus 9mm F8 Micro Four Thirds Body Cap Lens Black
What a great little lens to have in the bag and it's so light you don'...
Disposable Raincover For DSLR With Flash (Pack Of 2)
This is a really good, simple product, more effective and professional...
Pentax 18-135mm F3.5-5.6 DA SMC WR Zoom Lens
Received my Lens the day after I ordered it from Bristol Cameras. Pric...