Great prices for insuring your Dive Gear and Underwater Cameras
Dive Master were established in 1987 and are now one of the largest independent providers of recreational dive related insurance in the world. They offer a vast variety of insurance products including IDEC diving accident cover, Trip travel and IDEC insurance, Annual multi trip cover, Worldwide diver cover, Diving equipment cover, Sport diver liability, Pro diver liability, Diving trade liability and Diving trade property insurance.
For a great price on insuring your underwater camera and video equipment, please click on the image below
.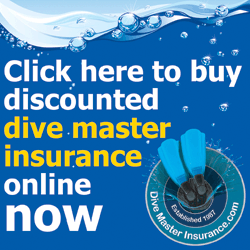 Product Reviews
Canon 24mm F2.8 STM EF-S Lens
As I am new to photograph I am not sure what you need. But I found thi...
B-Grip Evo Camera Belt Grip
I already had one of these B-Grip Evo Camera Belt Grips. Its a grea...
Olympus OM-D Shoulder Bag Medium
Good service and great price from Bristol cameras. Unfortunately, the ...
Named Camera Strap Olympus
Great product and great quality, a better standard than the flimsier o...
Nikon 10x25 Travelite EX Binocular
I spent a long time researching binoculars suitable for travelling. Th...